There have been many inventions that have changed climbing over the years; sticky rubber, cams, chalk… some made a massive difference. But the humble clip-stick has been rather useful to say the least. 'Remote clipping' as it has become known is now a thing on just about every UK sport crag. Is it worth investing in a stick, or just bringing along an old fishing rod, or even a branch from the local woods?
My first clip stick was made from the tent poles from an old Vango. It was awesome, bomb proof, if a little heavy. I reckon I was ahead of the curve, we'd been using sticks for a while, but only odd bits of bamboo or whatever was lying around at the base of the cliff. But the concept was clear, and addressed a common UK issue of a high first bolt combined with desperate first moves combined with nasty landing (Malham). Mine was built to solve a problem; John Welford had snapped the 1st bolt on Evolution at Raventor and made it rather dangerous to even dog the route never mind try redpoints. I was already involved, and thus stick was fashioned to bypass likely broken legs. The engineer in me was psyched too, with a variable angle head and fool-proof design that seemed better than the soon-to-come purchasable options for many years. In my view this was the best stick around, outlasting everything else by miles, and never resulting in an epic of fumble clipping. It was ran over, dropped down cliffs, used as a walking stick and even a pull-up bar and still stays solid.
And nice to use. Of course this is important! There is nothing as satisfying as ticking your hardest project, but maybe a close second is that lovely clunk as the quickdraw drops perfectly onto a bolt from a well executed stick-clip. Long distance, hard to reach, awkward and complex clips give special reward, and I've no doubt that in the future there will be expert clip-sitckers on hand at the base of the crag who's main psyche is to get the rope on the first bolt. Even if you've had a bad days climbing, a few good stick-clips will make you feel much better. So there is nothing more frustrating than struggling with shoddy equipment.
Development has been slow, mainly because not many people wanted to buy a stick (myself included). But also because not many needed a stick. It seemed only Brits were keen, due to our combo of traditional high first bolts and feeling easily scared.
But now there are some truly excellent leg saving devices on the market that will not only be a joy to use but will be the envy of the others who still struggle with old style collapsing wobbling poles. Though you may be climbing like a donkey, you'll still feel great when everyone comes over to borrow your stick, or even better, you can clip their quickdraws in for them and feel like a real expert.
New BetaStick Evo
The original BetaStick was first made in Sheffield in 2002 and became the stick of choice (as there weren't any other options). The Evo addresses some of the issues that frustrated many users of the original. Most notable is the improved stick. This is a major upgrade, and should eliminate those frustrating collapsing stick moments. It's long too, like 6.5m for the long version, which might even get you the belay clipped on some short Peak routes! But also packs down surprisingly short. The head design takes almost every carabiner and is solid. On the down-side the head is fixed in place and can be frustrating for those awkwardly placed bolts.
Pongoose.
Relatively new to the market, the engineering designers have taken some time to get this one right. It may not be cheap, but the thing that stands out instantly is that this is a unit of quality that is going to do the job well. A bit like a Makita powertool. Engineers in particular will enjoy explaining just how good the system is and take great delight in clipping up everyone's route rather than even climbing at all. The stick is very good quality, better than any other I have tried, but it's the head that stands out, taking every carabiner, and being multi-adjustable for every conceivable clipping scenario. The head can also be removed from the stick for travel, or to screw a camera to it for use as a mono-pod or distance boom (same screw thread). And even more cleverly, you can get a quality toothbrush that attaches to the head for 'remote brushing', thus making the stick potentially essential for the boulderer as well as the sport climber.
The head is also specifically designed for 'lasso-clipping' an in-situ quickdraw, which is perhaps the most common use of a stick these days. It can even be used to take out an in-situ quickdraw if you decide you've bitten off a bit more than you can chew!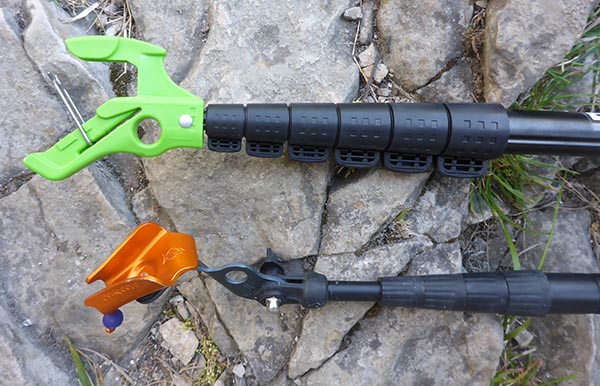 | | | |
| --- | --- | --- |
| | Evo | Pongoose |
| | | |
| Ease of clipping | *** | ***** |
| Pole stability | **** | ***** |
| lasso clipping | ** | **** |
| removing a quickdraw | * | *** |
| portability | *** | *** |
| light weight | *** | *** |
| extendability | **** | ** |
| pole lock mechanism | flick-lock | twist-lock |
| max length | 238 / 374 / 648 | 285 |
| min length | 55 / 74 / 113 | 72 |
| price | 40 - 50 | 85 |
| | | |
In a nutshell, the Evo is a major upgrade to the original Beta-stick. The new pole is fairly solid and reliable, and has an exceptional reach for its packed size. There is however a little wobble on full extension particularly on the thinner pole sections. For the price this is great value, but let down by the rather basic head design.
The Pongoose is the Rolls Royce of sticks, oozing quality, and clipping with this device will bring a smile to your face. The only down-side is the pole length, which although is good quality, has a rather short reach. Currently only available in one size, though a long version is planned. The price may also seem high, though the Pongoose may outlast your climbing career as opposed to previous sticks that didn't even last as long as your redpoint project.